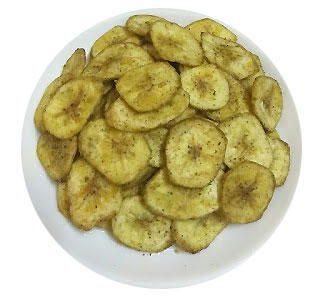 Banana Chips Pepper
Acquired taste, spicier than usual, pepper aroma
Buy authentic malnad banana chips with salt and pepper. Bananans are peeled and sliced thin and fried till they are crispy. Grounded pepper is carefully mixed with the chips in a mixing container.

Pure vegetarian.
Indulge in the satisfying crunch of our meticulously prepared banana chips. We start by carefully peeling and slicing the bananas into thin, delicate slices. These slices are then expertly fried until they reach a perfect level of crispiness, giving them a delightful texture that will keep you coming back for more.
To add a touch of zest and enhance the flavor, we take great care in mixing our banana chips with a perfectly balanced blend of grounded pepper. This meticulous process ensures that each chip is infused with just the right amount of pepper, creating a harmonious combination of flavors that will tantalize your taste buds.
Our commitment to quality is reflected in every step of our production process. From the selection of the finest bananas to the precise slicing and frying, we take pride in delivering a premium snacking experience. We believe that attention to detail is key to creating exceptional snacks, and our carefully crafted banana chips are a testament to that belief.
Whether you're looking for a delicious snack to enjoy on your own or a flavorful accompaniment for gatherings and parties, our banana chips are the perfect choice. The subtle heat from the grounded pepper adds a unique twist to the traditional banana chip, making them a standout option that will impress your taste buds and leave you craving more.
Savor the combination of crispy perfection and the gentle kick of grounded pepper in every bite of our banana chips. With their impeccable texture and balanced flavor profile, our chips are an irresistible snack option that will keep you reaching for another handful. Elevate your snacking experience with our thoughtfully prepared, pepper-infused banana chips.